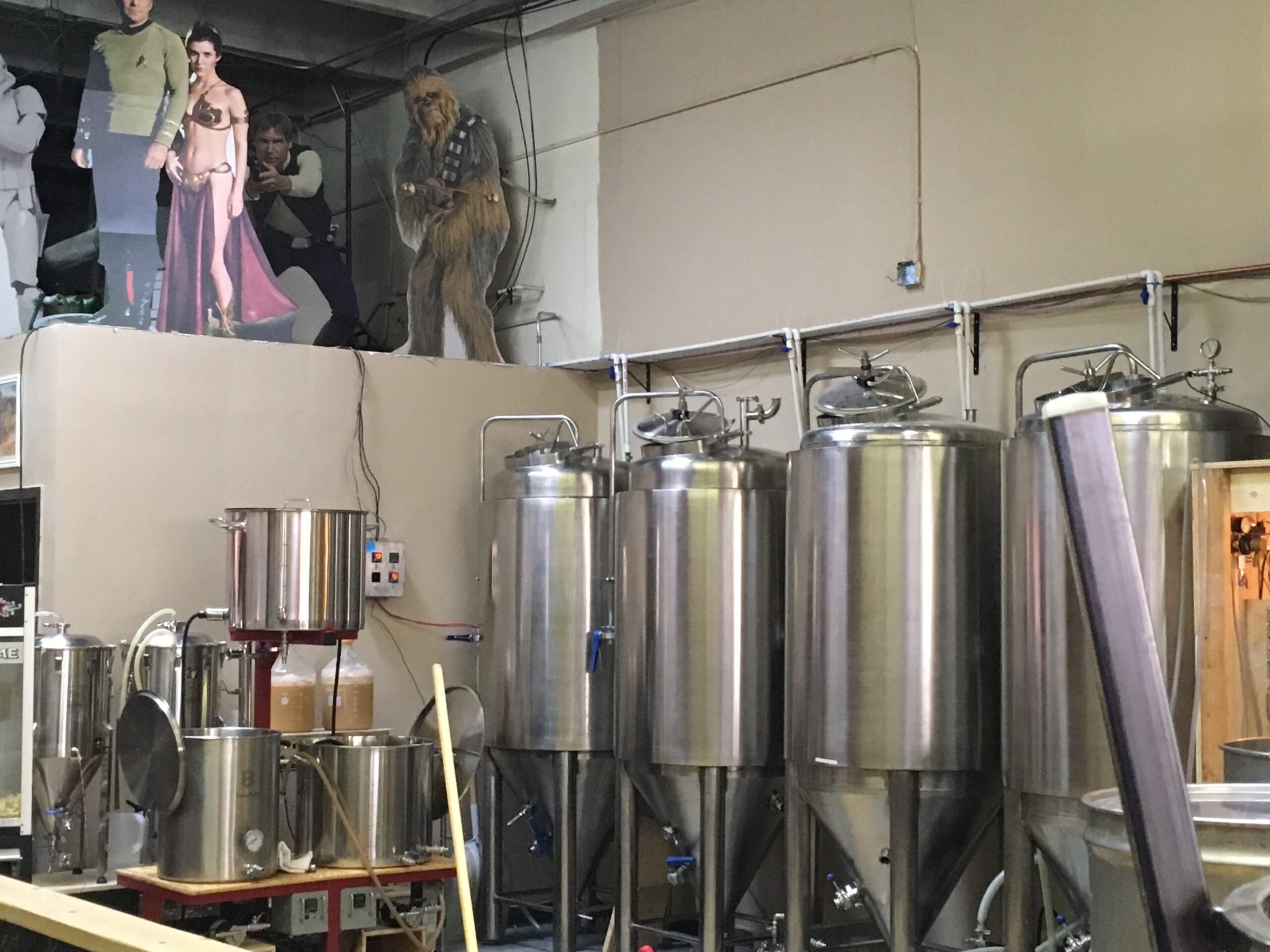 What was built in a garage with some reused kegs, a hobby, and a dream, Ryan and Tori crafted what is now SomePlace Else Brewery. Located in Arvada, Colorado, this "brewcade" is a haven for beer drinkers, pinball and skeeball enthusiasts, and dog lovers, who are looking for a fun, friendly, and easy going atmosphere with a hint of a competitive edge. When designing and building our brewing system and taproom on a shoestring budget in an already saturated market, we asked ourselves, how do we stand out from the rest?
Our commitment to a diverse flagship craft beer selection all year round and a unique customer experience were always at the forefront of our plans. Providing a friendly, fun, and relaxing hangout spot in the neighborhood where locals could come and enjoy fresh craft beer and the company of others (and maybe a game or two of pinball or skeeball) has always been and remains our main focus and goal. Since the opening of SomePlace Else Brewery we have introduced a weekly small batch R&D program. This program allows beer enthusiasts to switch it up every week with new and innovative flavors in beer! With our pop-culture theme, bustling atmosphere, and award-winning beer we hope that every time you visit SomePlace Else Brewery, it is one to be remembered and repeated.
5 bbl Brewing System
Four 5 bbl Fermenting tanks
20 gal Pilot system
Counter pressure can filling system
Canning system
300 bbl yearly production
Frequently-Asked Questions
Do you serve food or have food trucks?
We have food available all the time, including:
Pizza from Rocky Mountain Pizza
9″ Cheese or Pepperoni – $5
12″ Various types – $7-$12
Pretzels
Various types – $4.00
Chips
Various types – $0.75
Free Self Serve Popcorn
Soda
Various types – $0.75
Are Dogs allowed inside?
We love dogs and love having them in the taproom. They need to be on a leash and well behaved.
Do you specialize in a certain type of beers.
Yes, tasty well crafted beers. We offer a diverse line up of beers and have a new speciality release every Friday
How much does it cost to play the games.
Anywhere from $0.25 for the skeeball to $1.00 for some of the pinball machines.
We have a change machine so you can get quarters.
Do you ever have guest brewers?
Yes, we love to have people share their recipes with us and come in a brew. Contact us if you are interested in finding out more.
Do you hold private events?
We reserve tables for small groups in the taproom. Contact us to find out more.
Do you allow children?
For families who choose to bring your child to a bar, please remember it is a bar and that you MUST be with your child at all times, especially if they are playing our private collection of games.